Party Buses for Concerts
There's no finer way to travel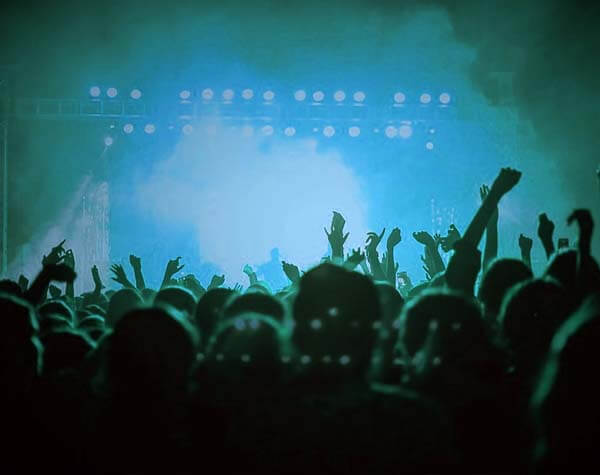 Concerts are one of the most exciting things to experience. Whether you're seeing a local or national act, or whether the show is at a large stadium, outdoors or at the beach, or at and intimate venue or bar, seeing live music is a fun and unforgettable experience. The music, the lights, the atmosphere - everything at a concert is a real production.
When you have a party bus taking you to the show, the night gets that much sweeter. Travel together with your friends and turn some heads when you pull up in rock star fashion at the venue. A party bus mode of travel allows you and your friends to really live it up for the night and enjoy everything the musical adventure as to offer. To start, we act as your designated driver for the evening, so you can start or end the night with a few drinks if you want. The fact that you can drink, dance, and enjoy your favorite music on the way there, any heavy traffic won't phase you one bit! We also will drop you off right out front of the venue, so not only do you feel like a VIP pulling up in a party bus or limo, you won't have to deal with traffic. Not to mention, you can stay for the whole show and even the encore, you won't be concerned with ducking out early to avoid traffic because we pick you up right out front.
When you don't have a party bus, however, you're left to your own devices for travel, traffic, and parking - not to mention finding a DD or being the DD yourself. These factors can quickly turn fun night out into a frustrating one - after all, no one likes to sit in traffic. On that note, have you ever left a show early and missed the last couple songs in an effort to avoid the crazy post-show traffic? Now imagine this scenario compared to the one above - which one sounds like more fun? Surely, a party bus is the best choice for concert travel.
The next time you're planning a night out for a concert event or music festival in Sarasota, call Party Bus Sarasota to provide your transportation. And, since we operate 24/7 you can stay at the show as late as you want, no worries. We'll make sure you have a great evening out!